In honor of the birthday of the author of "Dracula" Bram Stoker, we recall our favorite bloodsuckers!
Damon Salvatore
Alisa Karpenko, news editor:
So many girls love bad guys. I am one of them – although, in truth, it would be easier for me if I fell in love with good boys!
Of course, after watching the first series of The Vampire Diaries, I realized – here he is, the hero of my novel – Damon Salvatore. Blue-eyed brunette, strong, daring, arrogant, persistent, beautiful, seductive, with a great sense of humor! Who achieves, is not afraid and lives to the fullest. Dominant man. Dream-ah-ah!
In short, girls, I envied Elena Gilbert with white envy and drove into my head teenage stupidity that Damon Salvatore is my type.
In my 15s, I believed in the power of visualization … Therefore, here. I share and am not ashamed (well, only if a bit) of my creativity! These pictures did not hang on the wall, but they were on the phone's splash screen.
Count Orlock (Nosferatu)
Lena Bugay, site editor-in-chief:
The coolest vampire of all time, I believe, is Orlock from the movie Nosferatu. Symphony of horror "German director Friedrich Murnau. You can watch the retro horror movie (released in 1922) right here and now. But keep in mind – this is a silent movie for an hour and a half.
I don't know at what historical moment the bloodthirsty monster suddenly became a sex symbol, but a real vampire must look like that.
And not these all our sexy boys with a languid look and neat manicure 🙂
Moreover, Nosferatu is perhaps even cooler than Dracula, based on the novel about which they made a movie, although not very legal. Murnau really wanted to film Bram Stoker's novel, but he failed to get the rights to it. As a result, the cunning director corrected something in the plot, changed the names of the heroes, moved them from England at the end of the 19th century to Germany in 1838 – and voila, Count Dracula turned into Count Orlock.
The main reference to the original source was the name of the film: it was Stoker who first used the word "Nosferatu" as a synonym for the word "Vampire".
According to one version of the origin of the word, by the way, "nosferatu" comes from the Romanian " nosferatu ", which means "unbearable, disgusting" and was used to designate – ta dam! – hell 🙂
But on the other hand, it was Murnau who had the main weakness of the vampire in the sunlight: Dracula's Stokerian only became weaker from him, but he did not threaten to die. But with Nosferatu and got rid of once and for all. And, what I especially like, he does not arrange mass-circulation during his bloodsucking.
Count Orlok is a real predator that kills its victims during a hunt. There is no room for romantic illusions – and this is wonderful 🙂
Barnabas Collins, Gloomy Shadows
Lisa Markova, SMM Manager:
One of the most eccentric vampires in the history of cinema performed by Johnny Depp is Barnabas Collins. The hero, not of his own free will, chose the guise of a ghoul. Once a noble ladies' man rejected the maidservant, and the vengeful young lady not only turned Barnabas into a bloodsucker but also poisoned the locals with it.
A little crazy and comedic vampire wins hearts! Indeed, behind the image of a bloodthirsty and cruel master of darkness, a true romantic is hiding. An absurd hairstyle, bleached skin and trendy glasses add a certain charm to it. It seems that he can safely claim the title of the most stylish vampire 🙂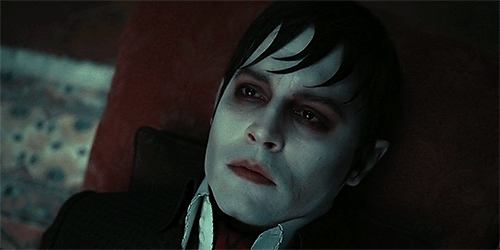 Dasha Krasnova, fashion editor:
Edward Cullen, Twilight
When I was in fifth grade, I read the Twilight novel by Stephanie Meyer. I liked the book a thousand times more than the film, and the image of Edward Cullen could not escape from my young heart. A dark-haired guy with bright eyes and large cheekbones is for me for sure.
I like Pattinson's appearance on my own, out of touch with vampires. But it was precisely the vampire theme that opened it to me. As a child, I loved Van Helsing and the whole story of the fight against Dracula. It seems to me that this is the only fantasy film that I can now revise. For 2004, everything is beautiful there!
Adam and Eve, "Only Lovers Will Survive"
And finally – the intellectual vampires in the form of Tilda Swinton and Tom Hiddleston from "Only lovers will survive." A cult film that is sure to see everyone and everyone. I really, really recommend it.
Kostya, "Night Watch"
Amosova Dasha, site editor:
Oh, I do not like vampire themes. I never was a fan of the concept itself and even didn't watch Twilight – only in "Drunken Retelling" by Smetana.TV 🙂
But in order to support my colleagues, I will write about the only vampire who's story I care about – the charming Konstantin from Timur Bekmambetov's dilogy performed by Alexei Chadov. I wildly liked how such a mysterious and mystical character was placed in the harsh Russian reality of the early 2000s.
Kostya lives with his father, erases his underpants in the bathroom, plays basketball and throws jokes with his neighbor Anton Gorodetsky. Here he falls in love with the witch Alice, who has a tough and authoritarian sorcerer husband. Here their love becomes forbidden … I will not spoil those who did not look, but in childhood, I was very worried about this love triangle.
It is great that in the domestic cinema there are excellent examples of adaptation in essence of a foreign character. Respect!